Your house will be cozy, reliable, and warm if you take care of installing a high-quality roof. The modern market offers many types of roofing: from rooftop tiles to corrugated board or a slate. Prices and scope of work may differ, but a solid housetop is a key point to a strong and comfortable home for comfy living. Roofers
Despite the large selection of materials, metal roofing is one of the most durable, strong and modern option available for residential and commercial property in MA.
Metal roof designed and installed by trusted contractor lasts for decades, compliments any house and reliably protects your property from bad weather. All you need to do is to inspect your roof once a season and call local roofing company in MA for metal roof repair services if needed.
You may have seen many local roofing companies but it is difficult to make the right choice. Contact the experts from Dennis & Team in MA. Metal roof repair, renovation and replacement is our specialization. Our experienced specialists carry out various tasks on installing and repairing metal roofs in Wellesley, Lexington, Weston, and other cities across the state of Massachusetts.
Our dedicated team offers wide range of services for metal roofs in any town of the state including Wellesley, Lexington, Weston. Our professional crew works very efficiently for your house improvements offering best solutions and time-tested metal materials.
Moreover, we provide metal roof repair services regardless of the complexity of the task such as hurry-up repairs, elimination of leaks, metal roofing partial or complete renovation. If you find a leak after recent heavy rain or a damaged part of the roofing covering – call our experts. We are near-me roofing company in MA region and will fix your metal roof as soon as possible.
Our standard rate for metal roof services is $495 and includes a roof inspection, a leak test, and up to one hour of repair work. If more damage is found during the repair than expected and the repair takes longer, it is $135 for each additional hour.
If the metal roof repair project is too large to complete in one day or requires a large number of materials, a special price will be offered. Most of the metal roof repairs we perform in MA region do not require more than one visit and can be done on-site. However, our specialist will tell you the exact terms of roof repair services after checking your roof on the spot.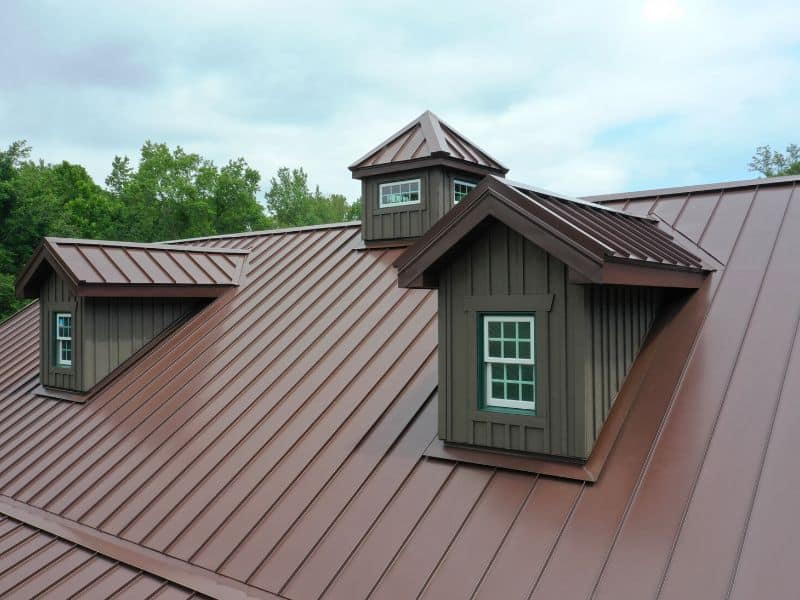 Our Services: any metal roof repair projects in Massachusetts
If you need any kind of work with the metal roof in MA, to install a roof over the enterprise, refit of the garage cover, like metal roof repair services and more, then leave a request on our website.
Our local renovation company carries out complete or partial metal roof repairs and installation. If you need to fix a leak on the house covering or to replace worn out material, then entrust it to our roofers.
The time-urgent tasks are not a difficult challenge for our roofing teams in Massachusetts and nearby cities. If you live here call our roofing company and we will install, replace or repair your metal roof.
We have the necessary equipment and tools to safely handle any complex metal roofing repairs and comprehensive coverage replacements in Wellesley, Lexington, Weston, and other cities across the state of Massachusetts.
Also in our list of exterior home improvement services in MA are:
Repair of metal tiles and other coating materials
Chimney refit
Gutter repair and installment
Housetop painting
Fractional and overhaul metal roof replacement.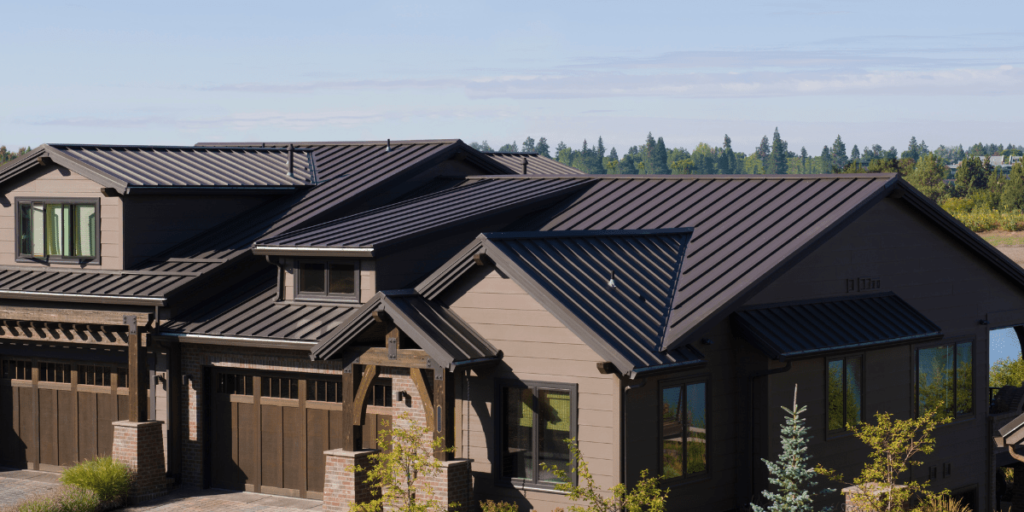 Metal Roof Repair in MA
Metal roof installation and renovation involves the use of reliable and solid materials that will protect your home for many years.
One of the most popular is metal shingles or sheets because they are solid, durable and sturdy.
Our roofing company offers various metal coverings including sheet and corrugated metal. We always have enough materials at our disposal for any construction and urgent repairs tasks in MA.
Here in MA our roofing company often faces cases when parts of old metal roof are damaged (strong wind, falling of a heavy object, etc.). The awning could also be broken due to improper installment, or if maintenance recommendations are not followed.
We know how important it is to fix roofing problems as soon as possible, so our team will come to you quickly.
If you live in Massachusetts, Wellesley, Lexington, Weston and you need metal roof repair services – do not hesitate to call us. We are local company and we will respond to your request as soon as possible.
Metal Roof Replacement in MA
Compared to other roofing contractors in Massachusetts, our team provides the renovation and replacement of any metal roofs. This work is done in several stages.
First, our specialists carefully inspect and plan the overall scope of work.
Then, the customer approves the schedule of improvement activities and approximate deadlines.
After that, the experts get to replacing damaged areas, plates, slabs without changing the overall supporting structure. To find out a more accurate work plan for your roof, the term of roof repair project and the estimate, please contact our specialists in MA.
You might be sure that our specialists will replace any roof material with good quality without leaving missing elements, redoing planks, seals, or gutters.
Our specialists install a new metal roofs or repair an already existing one. With our prof team, you can eliminate all covering defects in a cost-effective way and very fast. We also replace and install gutters, make replacement of entry doors and windows, paint the building covering, etc.
Being a local company in Massachusetts, we are proud of our strong positive reputation.
Our roofers will repair, replace, renovate or build a new metal roof considering your wishes and budget.
Looking for a quality and affordable contractor for your next project?